Belgian and Lithuanian experience in HRM reform of the State Customs Service
Ninety participants of the event, the representatives of the HRM department of the central and regional offices of the State Customs Service of Ukraine, participated in an online training on Job Profiling and Competencies Framework approach to Human Resource Management. The training was organized as a part of the EU4PFM Program, a component of the assistance of EU partners in reforming HRM service of the State Customs Service of Ukraine in accordance with European practices.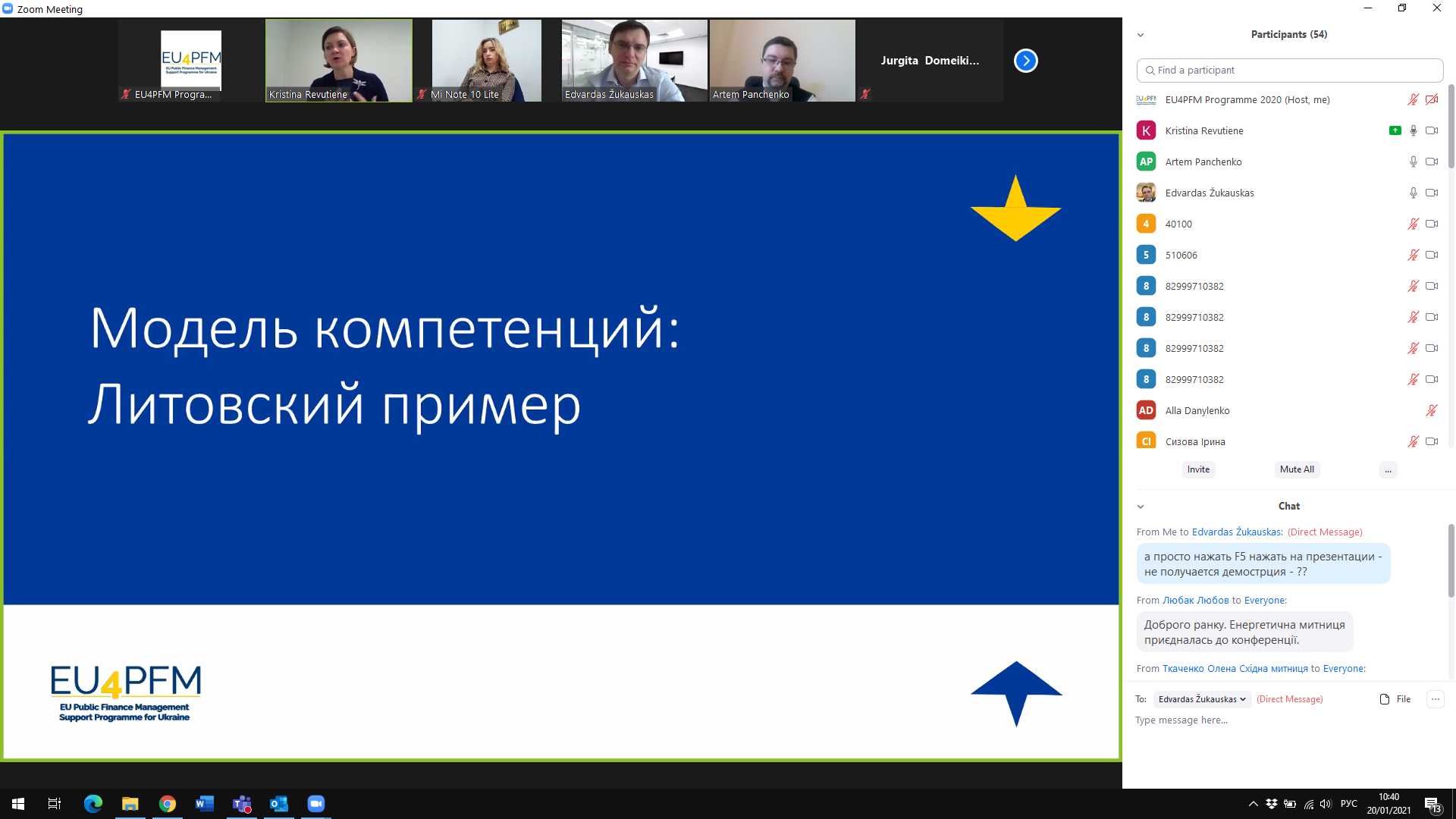 The experts presented Belgian and Lithuanian approaches to the Competency Model and Job Profiling. They believe, the application of the proposed practices will help to build a systematic functions and processes in HRM, on one hand, and which make possible to unify and simplify the process of describing positions and requirements, on the other hand.
"Interpretations depend on the organization, but standardization provides more transparency and simplifies the management process," stated EU4PFM expert Mr. Edwardas Zhukauskas.
According to experts, creating profiles is a step towards a systematic view if comparing to job descriptions. Thus, positions that are similar in their role, placed in the hierarchy, should have similar requirements. In addition, job groups should not be different in territorial units. Job profiles allow not to create new job descriptions every time, but only adding some necessary elements to the already formed requirements for a certain group.
The purpose of the training was to show the whole picture of why a Competency Model is needed, why it should be used for further work, and to present the scope of its work.
Ms. Jurgita Domeikiene, EU4PFM Team Leader, mentioned that if the State Customs Service decides to start grouping and forming Competency Models, EU4PFM would be practically assisting in this work.
This was the 2nd training for HRM specialists of the State Customs Service. According to Ms. Jurgita Domeikiene, the next training on professional development can be held on the topic of building Comepetency Model processes, on how to gather information about training needs and more.
Ms. Jurgita Domeikiene also noted that EU4PFM has already elaborated and translated into Ukrainian two manuals: one is for managers who evaluate performance, as well as for members of selection committees, and the second – on evaluation during selection process. They will be handed over to the seminar participants.