Monthly meeting on HR / PAR with partners from the Ministry of Finance, the State Customs Service, the State Tax Service and the Accounting Chamber of Ukraine
Systematization, as well as small steps of larger plans and strategies were discussed at a monthly meeting with HR / PAR partners from the Ministry of Finance, the State Customs Service, the Tax Service, the Accounting Chamber and experts of the EU4PFM Program, which took place on April 21.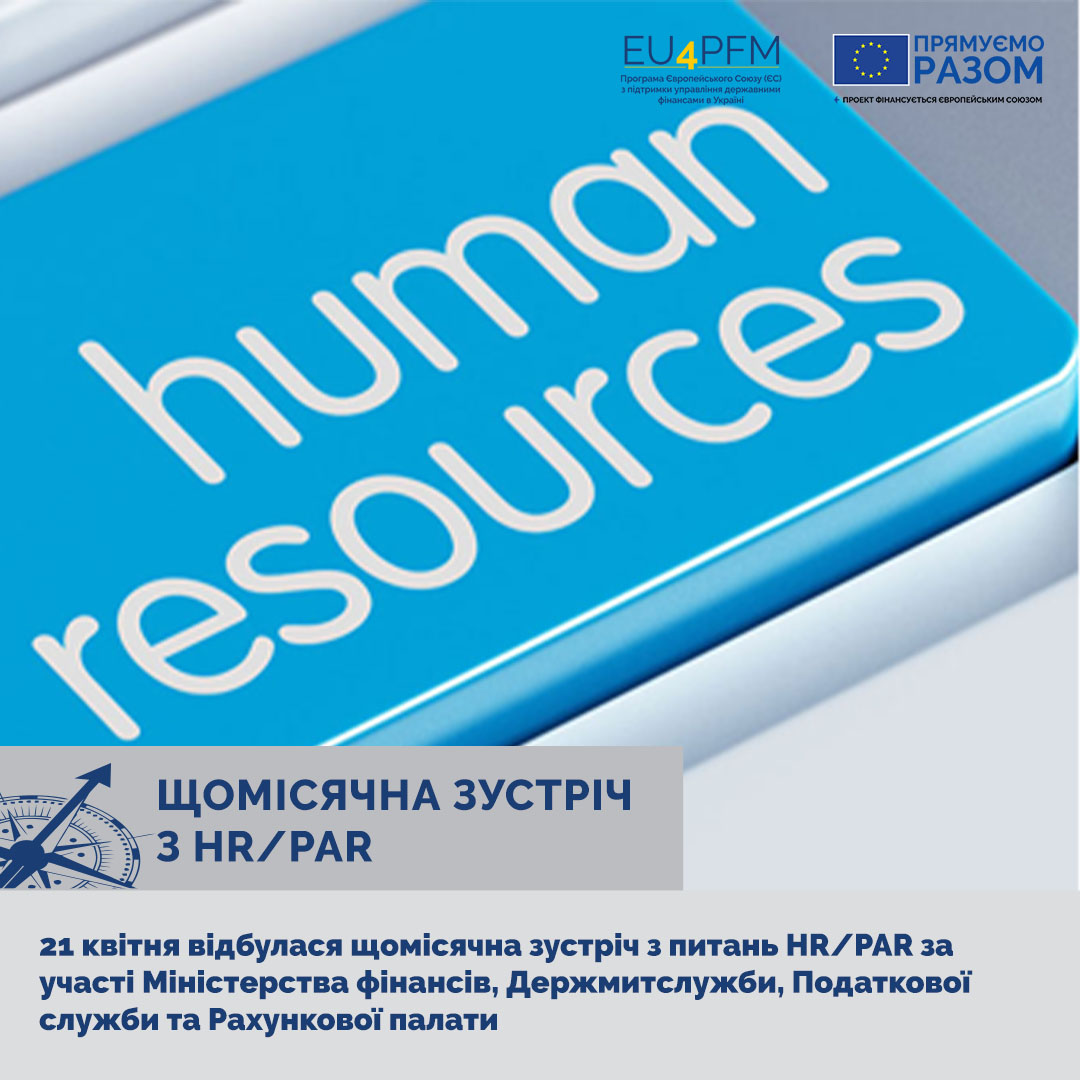 Key HR achievements and guidelines:
🟡Ministry of Finance of Ukraine: After the development and approval of HR-strategy, work on the roadmap of professional training and in-depth study of the needs of employees, it is planned to form a concept of defining and developing organizational culture and creating a youth internship concept.
🔴Accounting Chamber: About 10 indicators have already been implemented within the efficiency management system. An employee engagement survey is currently underway, which will be the starting point for building organizational culture and internal communications.
🔵State Customs Service of Ukraine: Major focus is on anti-corruption activities in the management of the team: testing new employees for reliability, legalization and implementation of corruption risk assessment for current leaders in the regions. A pilot project for JFO / ATO veterans on distance self-learning for customs brokers has been successfully launched. It is planned to expand such a project to students of specialized universities.
🟢State Tax Service of Ukraine: Implementation of the approved HR-strategy and effective use of the KPIs library developed together with EU4PFM experts continues. Major attention is focused on the study of the needs and systematic training of employees of regional departments of the State Tax Service to scale the positive experience.
⚪️Eu4pfm: Project experts will continue to support HR specialists from the Ministry of Finance, the State Tax Service and the State Customs Service. After all, cooperation is growing and its effectiveness is growing. In the future, it is planned to focus on the following areas within the framework of personnel management: formation of organizational culture, implementation of e-learning distance learning system, recommendations for creating an intangible motivation system, etc.