2nd EU4PFM Steering Committee Meeting took place
On May 27, 2020, under quarantine, we held online Second Steering Committee Meeting of the Public Finance Management Support Programme for Ukraine (EU4PFM).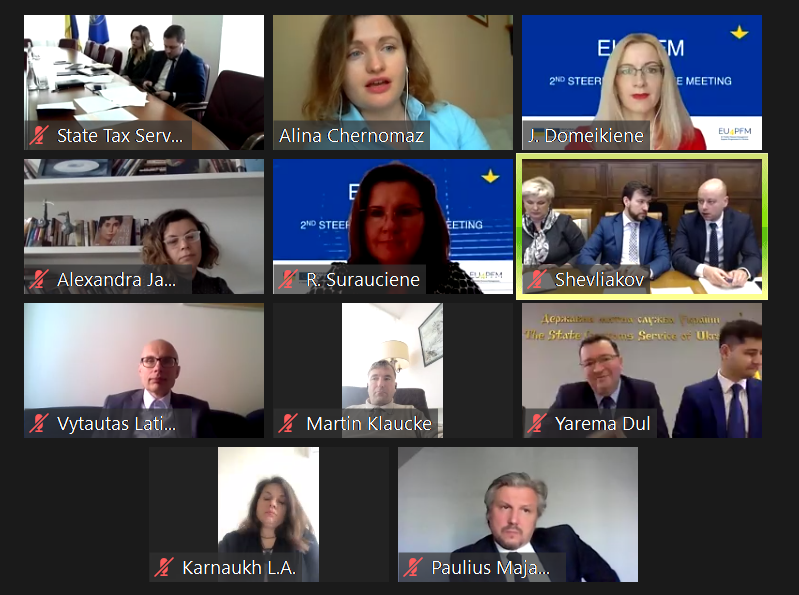 The meeting was attended by partners from the Ministry of Finance of Ukraine, the State Tax Service of Ukraine, the State Customs Service of Ukraine, the Accounting Chamber of Ukraine, the European Union in Ukraine.
Both Chairpersons, Denys Ulyutin, First Deputy Minister of Finance of Ukraine and Martin Klaucke, Head of Operations Section 1 "Good Governance and Democratization" of EU Delegation to Ukraine opened the meeting with welcome remarks. Andriy Ulyutin noted the effective work of the EU4PFM team and the EU Delegation to Ukraine in implementing the project. In turn, Martin Klaucke noted that despite the crisis with COVID-19, due to the flexible and results-oriented approach demonstrated by the Central Project Management Agency (CPMA), the EU4PFM work plan was established with a number of tangible results. Each of the participants told about the achievements and work plans in the relevant areas of cooperation for the next three months. Ms. Jurgita Domeikienė, Acting Team Leader, International Key Expert on HR/PAR presented the goals and objectives of the project, the Team, approaches to work, including in response to the COVID-19 crisis, and the main results in tax, customs, HR/PAR areas and the IT Fund. Common goals for each area by 2020 were also outlined.