3rd EU4PFM Steering Committee Meeting
Today, on the 19th of August, the third Steering Committee meeting of the EU Public Finance Management Support Programme for Ukraine (EU4PFM) took place. The participants of the meeting discussed the results of work in the 2Q 2020 and plans within relevant areas of cooperation for the next three months.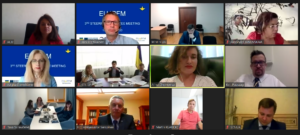 The meeting has started with opening remarks delivered by Denis Ulyutin, First Deputy Minister of the Ministry of Finance of Ukraine, Martin Klaucke, Head of Operations Section 1 "Good Governance and Democratisation" European Union Delegation to Ukraine (TBC), and Ambassador of the Republic of Lithuania to Ukraine, H.E. Valdemaras Sarapinas.
"Under the Programme, the work on the preparation of the updated Public Financial Management Strategy (PFM) for 2020-2024 was intensified. The ongoing work on an agreed framework IT strategy to support PFM reforms, the draft of which we expect to receive in late September, is taking place.
The Ministry is also strengthening its role in the transformation processes within Tax and Customs administrations, in particular in their functioning as single legal entities and all other related processes, including staff certification.
IT-modernization continues to occupy a leading place in our work. We are pleased to note the progress in the implementation of some important IT initiatives, such as the implementation of NCTS, and practical steps to implement the IT-centralization concept, as well as launch several pilots to exchange information and joint services with the State Tax Service and the State Customs Service, "- stated Denis Ulyutin during his speech.
In turn, Martin Klaucke thanked the partners for tangible results in the customs area, including the implementation of measures for Ukraine to join the NCTS system, launch of the AEO program, preparation of IT-strategy, and automated risk management system 2.0. He also noted effective work in the tax area, in particular on the development of HR-strategy.
H.E. Valdemaras Sarapinas pointed on the importance of cooperation between the Republic of Lithuania and Ukraine in the area of public finance, which is the basis for building a successful democratic state. The Ambassador also noted that Lithuania deeply appreciates the Ukrainian-Lithuanian strategic partnership and is ready to deepen it further.