The 4th meeting of the EU4PFM Steering Committee took place
On October 28, 2020, the 4th Steering Committee meeting was held.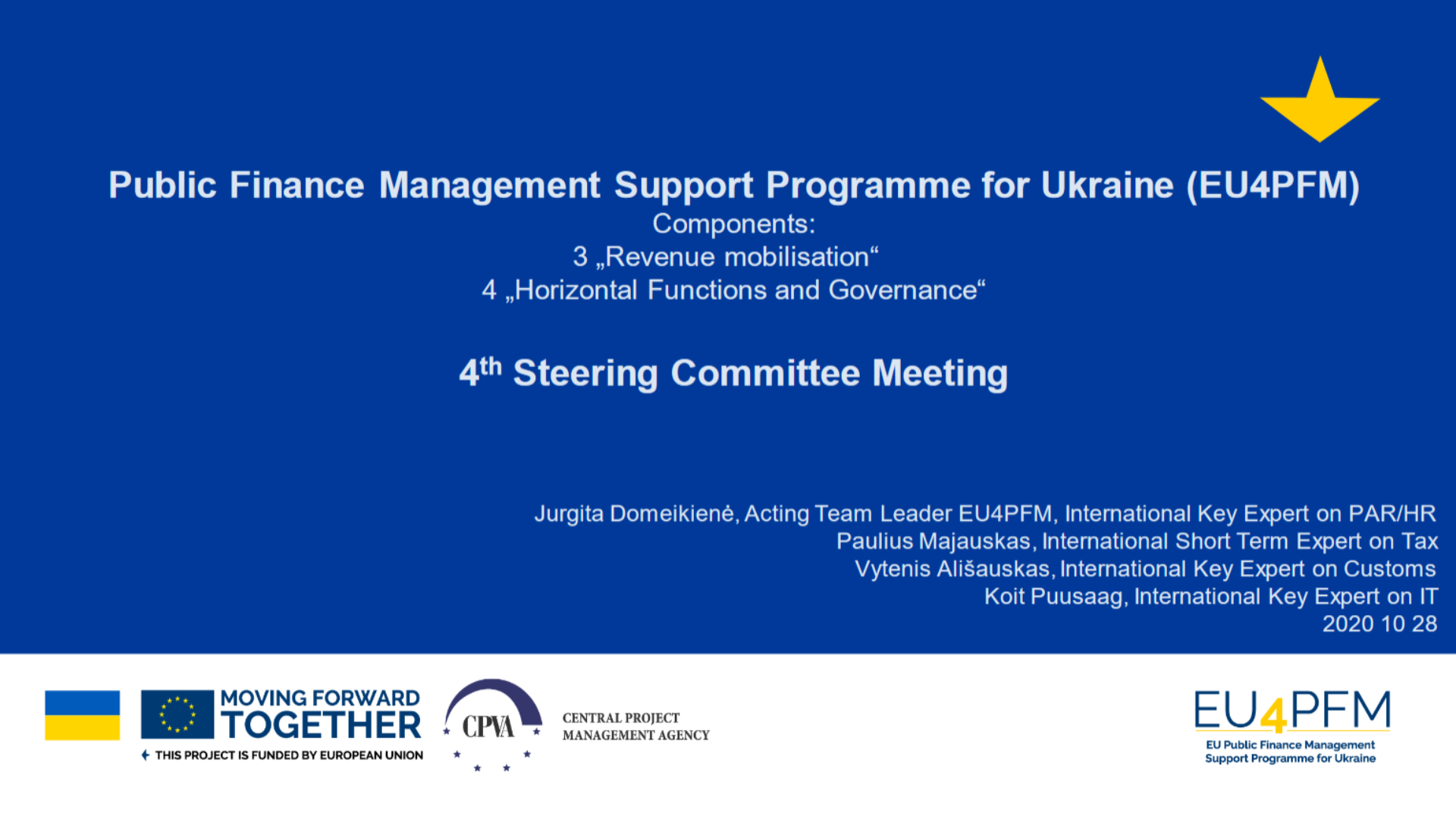 The meeting was held in the usual online format together with the partner project from the Ministry of Finance, the State Customs Service, the State Tax Service, the Accounting Chamber of Ukraine and the EU Delegation to Ukraine.
The Steering Committee meeting is organized on a quarterly basis to monitor the project's Working Plan and partners' activities, as well as to determine the main goals and activities for the next quarter.
During the welcome address, Mr. Yuriy Draganchuk, Deputy Finance Minister, Ministry of Finance of Ukraine, and Ekateryna Yakovleva, Public Finance Manager of the EU Delegation to Ukraine, thanked the partner institutions and EU4PFM Programme, emphasizing the effectiveness of the project and the importance of EU-Ukraine cooperation. In particular, Ms. Ekateryna Yakovleva stressed the EU's support for the Ukraine and noted the significant progress made in the course of reforms, despite the difficult times. Besides, Ms. Ekateryna Yakovleva thanked the Ministry of Finance of Ukraine for developing a new PFM strategy.
Also, the meeting was supported with a presence at of Ms. Julda Kielyute, Head of Financial Cooperation, Support Group in the EU, and Ms. Loreta Maskalioviene, Deputy Minister of Finance of Lithuania. In particular, Ms. Julda Kielyute stressed the importance of reforms in the customs and tax spheres and noted that the EU supports Ukraine as a reliable trading partner, so next significant step is the harmonization of legislation, including VAT, launch of NCTS and AEO, which will facilitate trade and recognition of Ukraine as a reliable partner. Ms. Loretta Mascalioviene thanked for the close cooperation between the partners and the project during the pandemic and paid attention to the importance of timely exchange of information and application of the best European practices.
During the event, Jurgita Domeikiene, Acting Team Leader of EU4PFM, and project representatives presented the results achieved in key areas:
Customs
Tax
IT
HR/PAR