A workshop "International and European practice of amicable settlement procedure in tax disputes: legislation and implementation"
European best practices in tax disputes were presented for EU4PFM partners. More than 300 employees of the central office and the Main Departments of the State Tax Service of Ukraine, who work in the areas of court support and administrative appeals, took part in the workshop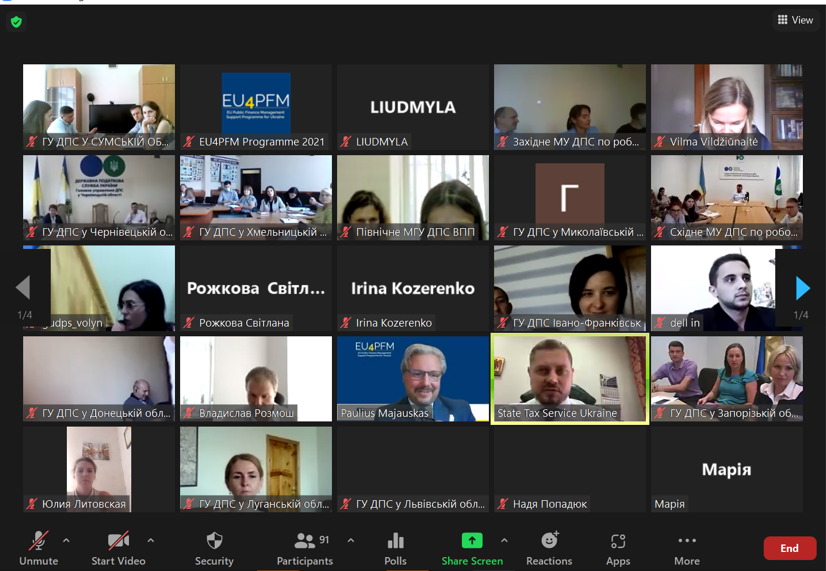 The event was opened with welcoming remarks from Mykhailo Titarchuk, Deputy Head of the State Tax Service of Ukraine, and Paulius Majauskas, International Key Tax Expert of the EU4PFM.
"The issue of amicable settlement procedures is important, as the problem of overburdening the courts of Ukraine is very relevant today. We conducted an analysis – in 2020, more than 89 thousand cases in the amount of UAH 313 billion were in court. This is a very large number. Ukraine has chosen the path of European integration and that is why we are currently studying the best practices in the field of conflict management in both European countries and the United States," Mykhailo Titarchuk said.
"The topic of today's workshop is very interesting and important. The amicable settlement procedure seems simple at first glance, but the requirements for it are quite complex – to achieve a certain financial result by speeding up the payment of taxes, as well as to reduce the burden on the courts and speed up the tax payment process. And we will be happy to share with the State Tax Service the best European experience on this issue," said Paulius Majauskas.
International practices on the application of the amicable settlement procedure in tax disputes were presented to the representatives of the State Tax Service by Wilma Wildunaite, an international expert of the EU4PFM Project. In particular, the following practical topics were discussed during the training:
alternative tools of tax disputes: methods and types;
application of the tax agreement in Lithuania: opportunities and limitations;
practical situations of signing contracts;
legal regulation of the tax agreement in Lithuania.

Let's implement change together!