Call to participate in the market consultation for the procurement of "ACA ITS Complaint and Courts Subsystems "
Dear Supplier,
The Public Institution Central Project Management Agency (hereinafter – CPMA) (Republic of Lithuania) plans to conduct a public procurement procedure for the State Tax Service of Ukraine with the aim of acquiring the services of the IT system for the improving the process of supporting the consideration of taxpayers' complaints to fiscal assessment notices in the ACA ITS Complaint Subsystem and the process of handling cases in courts with the participation of the bodies of the State Tax Service of Ukraine and displaying their results in the ACA ITS Courts Subsystem (hereinafter – the Services) under implementation of the Contribution Agreement No. ENI/2018/404-165 signed on 19th of December, 2018 by the European Union, represented by the European Commission, and CPMA for the implementation of the EU funded "Public Finance Management Support Programme for Ukraine" (EU4PFM), Components 3 and 4 (hereinafter Project).The final owner and beneficiary of these Services is State Tax Service of Ukraine.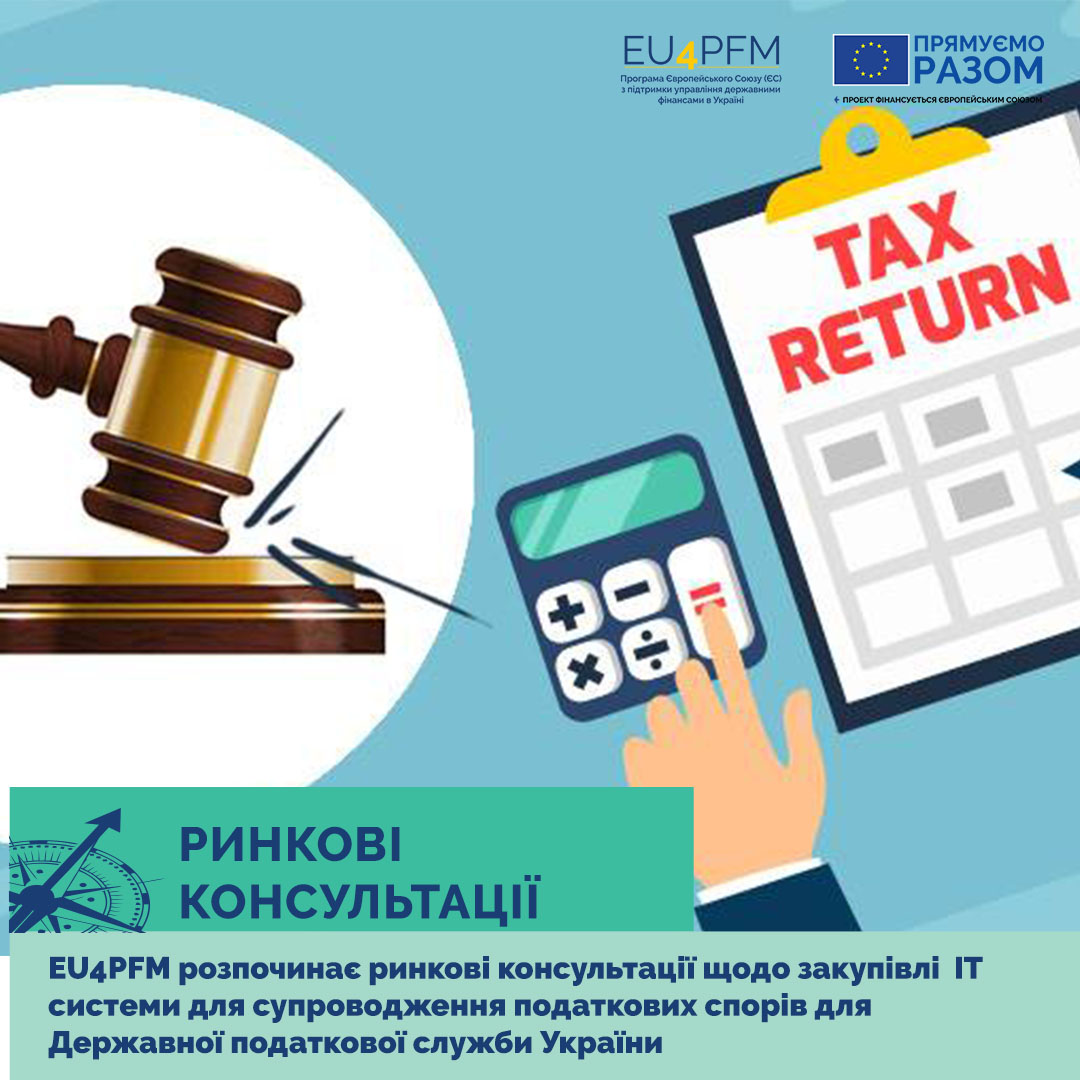 Before announcing the international public procurement CPMA (a buyer of the Services) is performing market consultation concerning the Services.
Please find all the market consultation concerning the mentioned Services related information under the link: https://cvpp.eviesiejipirkimai.lt/Notice/Details/2021-619091 .
We kindly invite You to participate in this market consultation and submit Your answers for market consultation using Central Public Procurement Information System of Lithuania (CVP IS) https://pirkimai.eviesiejipirkimai.lt/ or by email [email protected] until 4th May 2021, 09:00 Lithuanian time.
The planned international public procurement will be carried out via CVP IS https://pirkimai.eviesiejipirkimai.lt/ .
If you intend to participate in the procurement, we recommend pre-registering in the CVP IS system as a user. Only by registering, will you be able to submit an offer.
With best regards,
Public procurement Commission