EU4PFM will support the development of a single e-learning platform for PFM institutions
This was discussed during the meeting "Conceptual framework of the e-learning system based on best practices" for the Ministry of Finance of Ukraine, which took place on November 18, 2021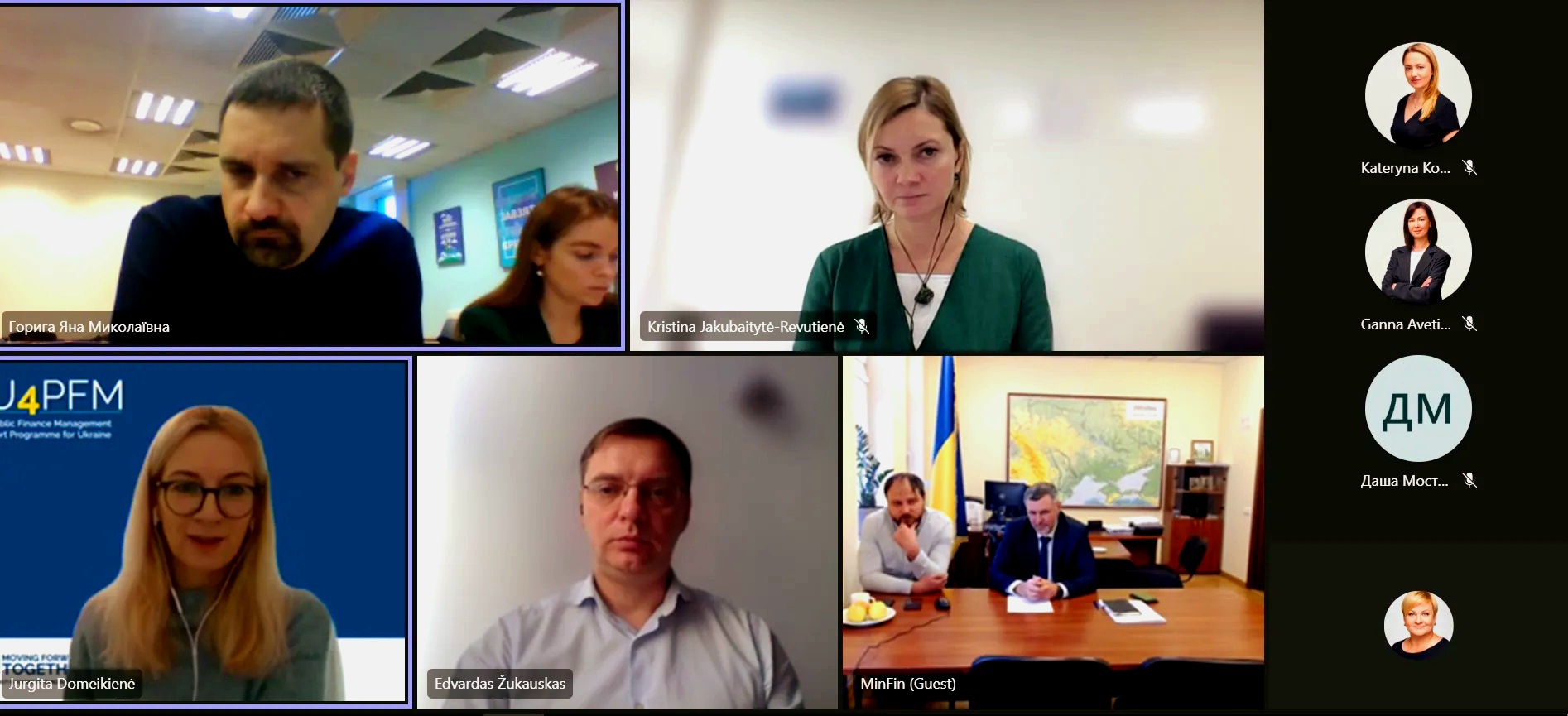 At the beginning of the event, Edvardas Žukauskas, International Expert on HR/PAR in the EU4PFM Project, congratulated the Ministry of Finance of Ukraine on the Government's approval of the Strategy for Digital Development, Digital Transformations and Digitization of the Public Finance Management System until 2025, which was developed with Project's support.
"The Ministry of Finance plans to create a separate training system for the entire perimeter of public finances. This is one of the components of the Strategy approved by the Government," said Oleksandr Hrubiyan, Deputy Minister of Finance of Ukraine for Digital Development, Digital Transformations, and Digitization.
The EU4PFM Project is ready to support the development of a single e-learning platform for PFM institutions, stated during the meeting EU4PFM Team Leader, an International Key Expert on HR/PAR, Jurgita Domeikienė. In her words, the Project can help in the development of functionality, creation of the system, developing a standard curriculum, etc.
This event is the final in a series of workshops on the review of existing e-learning platforms for civil servants for institutions in the field of public finance management in Ukraine – the Ministry of Finance of Ukraine, the State Tax Service of Ukraine, the State Customs Service of Ukraine.
EU4PFM Project Expert on HR/PAR Kristina Jakubaitytė-Revutienė introduced the participants to e-learning systems, open and commercial, their key functionalities and features, examples of best learning practices, and e-learning curriculum development methodology.
"Where to start?" – noted Kristina Jakubaitytė-Revutienė. The first step, she said, should be defining learning goals from the perspective of all PFM institutions. "Programs should be developed by the specialists, but we must define who should lead a single structure, who will develop the strategy and education standards, we must determine the specialists who will create the program standard, model structure and according to these requirements each institution will assign those responsible for developing the content of each program." – says the expert.
Furthermore, it is important to define the audience (employees of institutions or external users), the number of programs, the necessary educational tools for new employees or for developing their competencies, career growth, etc. Based on these, the future necessary functionality of e-learning will be built up.
The participants of the meeting had the opportunity to ask questions to the project experts and exchange views on the e-learning system.
Let's implement changes together!