Experience of EU4PFM and partner institutions in institutional development and human resource management reform
The EU4PFM project has been cooperating with partner institutions in the area of public finance management in Ukraine in human resource management and institutional development for about two years.
All the accumulated material has become the basis for the preparation of the publication "Human Resource Management Reform and Institutional Development for Public Finance Management Institutions. EU4PFM Digest — 2020/2021" published on the EU4PFM's official website and accessible to general public.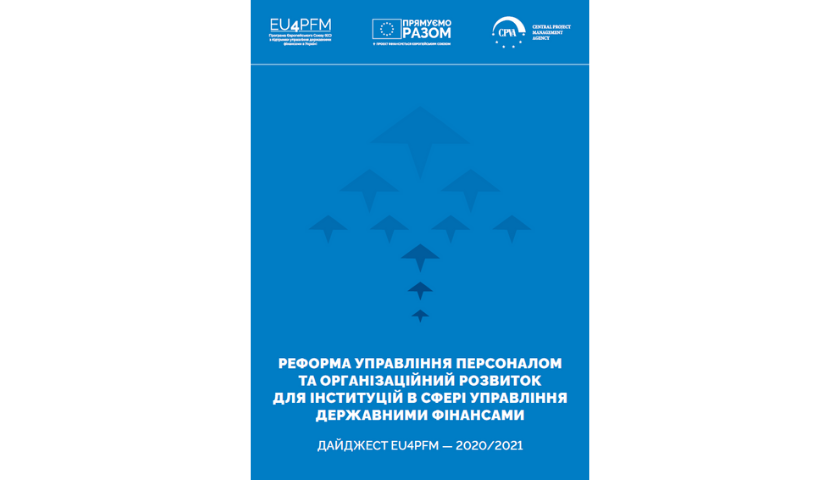 "During this period, project support has focused on developing methodologies and procedures, internal policies, and training that combines theory, international practices, and expert advice," Jurgita Domeikienė, EU4PFM Team Leader, an International Key Expert on HR/PAR, and Edvardas Žukauskas, a EU4PFM International Key Expert on HR/PAR, stated in the document preface.
Practical guidance papers were also prepared; those comprised KPI libraries, competency models, individual manuals for participants of tender commissions, and for managers to guide the latter through the annual interviews with their subordinates as part of the evaluation process, and internal communication planning manuals.
In 2 years, 65 training sessions/workshops were held, with 4,500 participants taking part therein.
One of the important results was successful cooperation in the development of HR strategies between the partner institutions and the project. To date, three of the four partner organisations have adopted such documents and are implementing them.
"From our own experience, we'd like to add that it is quite unlikely to ensure quality human resource management if an organisation is limited to implementation of general legal framework only," say the experts. "That requires additional internal efforts that lead to the implementation of 'soft' tools of capacity building within the organisation and to adoption of known best practices aiming at the development of institutional processes that are not provided for by legal framework."
The project has taken on the role of helping to implement such tools and practices and share the necessary information with the partner organisations, and will continue to do so.
The key best practices jointly developed by EU4PFM and partner institutions are contained in this short digest, which we hope will be useful to you in your daily work.