HR Monthly meeting with partners institutions took place
The EU4PFM experts' team together with partners from the Ministry of Finance of Ukraine, the State Tax Service of Ukraine, the State Customs Service, and the Accounting Chamber of Ukraine held an online meeting of representatives of the HR and Personnel Development Department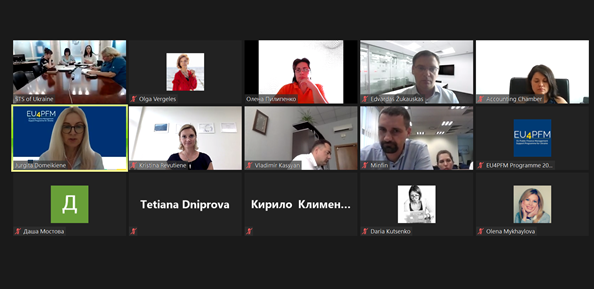 During the meeting, the main changes were discussed that managed to be introduced in the personnel management in the partner organizations after the training and consultations of the international experts of the EU4PFM Project. Representatives of partner organizations discussed innovations in personnel management, which are introduced in their organizations.
During the meeting, the Ministry of Finance of Ukraine shared the results of work on developing a model of competencies.
As you know, the work of employees on the basis of well-developed competencies can be the basis for the formation of a system of effective activities of the organization as a whole, and to support planned changes. The competency model is used for personnel selection, evaluation, professional development, and motivation. If we briefly describe what the competency model is, it will sound like this: the "right" employees are in the "right" positions. All personnel management is based on competencies.
Another issue that was discussed in detail during the meeting was the establishment of effective internal communication. Representatives of the State Tax Service presented the Program for the Development of the Internal Communications System of the State Tax Service, which was recently approved. According to a number of global studies, effective internal communication can improve an organization's image by 30% and increase an organization's efficiency by 40%.
Partner organizations shared the results of work for the second quarter of this year, including:
participation in training on the topics of personnel recruitment, interview techniques, staff involvement survey, internal communication
further development of organizational culture
conducting a staff involvement survey
development of values ​​of the organization
development of a tool for assessing competencies in 360 °
work on the plan of internal communication
introduction of process management