Members of the European Business Association are interested in the AEO program
On December 15, a remote seminar for members of the European Business Association on "Practical aspects of the procedure for obtaining the status of the Authorized Economic Operator (AEO)" was held. In total 50 participants attended the event.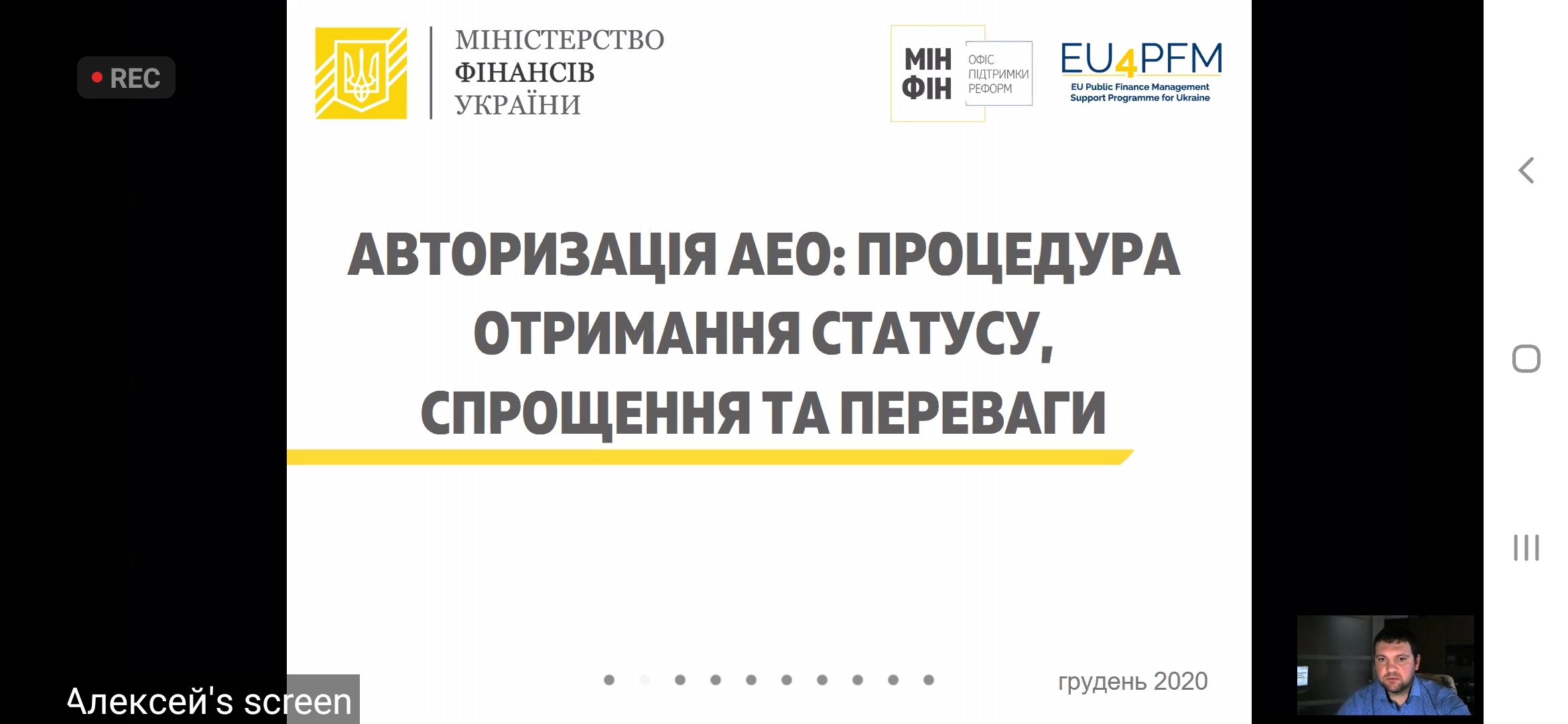 This is the 4th seminar in a series of business events organized with the participation of the Ministry of Finance, the State Customs Service, the EU Public Finance Management Support Program in Ukraine (EU4PFM) and the Reform Support Team (RST) at the Ministry of Finance of Ukraine. The previous three events were held for members of the Union of Ukrainian Entrepreneurs (SUP), the American Chamber of Commerce in Ukraine and the Association "Ukrainian Agribusiness Club".
The purpose of the seminars is to provide information on the AEO program introduced in Ukraine in August 2020 and meets the EU standards.
The speakers answered the question of what will the status of AEO actually mean for Ukrainian exporting producers / importers; what entities that will not get the AEO status by 2022 will lose; how transparent the business must be in order to obtain the status of AEO, etc.
Mr. Andriy Teply, Head of the Support Department for Authorized Economic Operators of the Department for Organization of Customs Control and Customs Clearance of the State Customs Service, Mr. Oleksiy Vorobyov, EU4PFM expert on AEO Implementation, and Ms. Oksana Drozach, Customs Reform Coordinator of the Reform Support Team under the Ministry of Finance, Advisor to the Deputy Minister of Finance of Ukraine, answered questions from business representatives.
To recall, the status of Authorized Economic Operator provides business entities with significant simplifications in the implementation of customs formalities. This program has already been implemented in 84 countries. After Ukraine concludes bilateral agreements with the EU and other countries on mutual recognition of AEOs, the AEOs authorized in Ukraine will be able to make use of significant advantages in customs clearance.