Results 2021: TOP-5 Achievements in IT transformation
The EU4PFM project has summed up the results of activities in 2021.
The TOP-5 results in each area of the project's cooperation in the PFM field with partner institutions in Ukraine: the Ministry of Finance of Ukraine, the State Tax Service of Ukraine, the State Customs Service of Ukraine, and the Accounting Chamber of Ukraine prepared for a public audience.
Today we share the key achievements in IT transformation.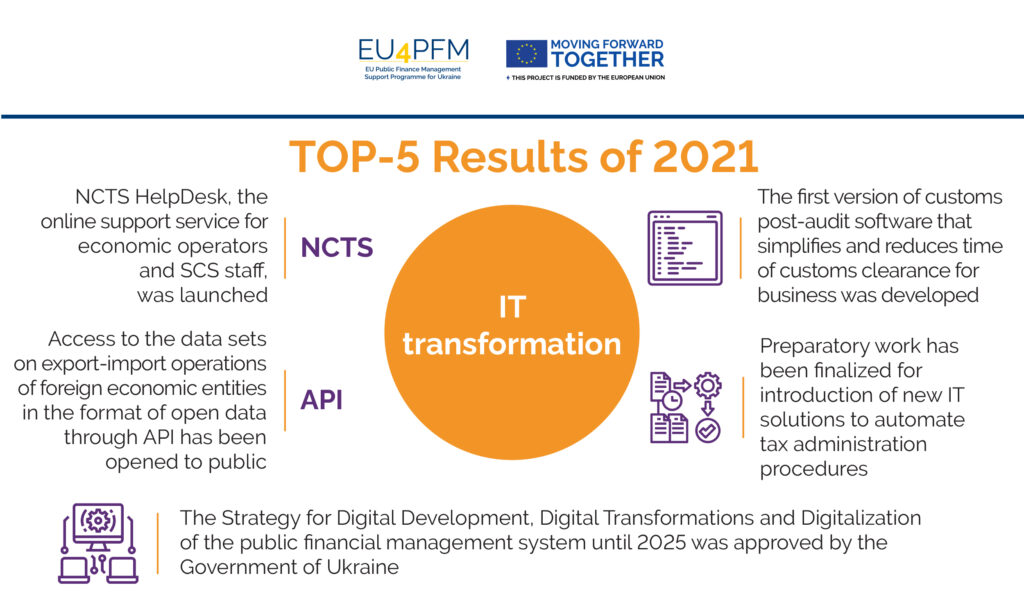 Among the TOP-5 common achievements of the EU4PFM project with partner institutions:
The Strategy for Digital Development, Digital Transformations and Digitalization of the public financial management system until 2025 was approved by the Government of Ukraine.
NCTS HelpDesk, the online support service for economic operators and SCS staff, was launched.
Access to the data sets on export-import operations of foreign economic entities in the format of open data through API has been opened to public.
The first version of customs post-audit software that simplifies and reduces time of customs clearance for business was developed.
Preparatory work has been finalized for introduction of new IT solutions to automate tax administration procedures.
Moving forward together!