Results 2021: TOP-5 Achievements in Tax area
The EU4PFM project has summed up the results of activities in 2021.
The TOP-5 results in each area of the project's cooperation in the PFM field with partner institutions in Ukraine: the Ministry of Finance of Ukraine, the State Tax Service of Ukraine, the State Customs Service of Ukraine, and the Accounting Chamber of Ukraine prepared for a public audience.
Today we share the key achievements in the Tax area.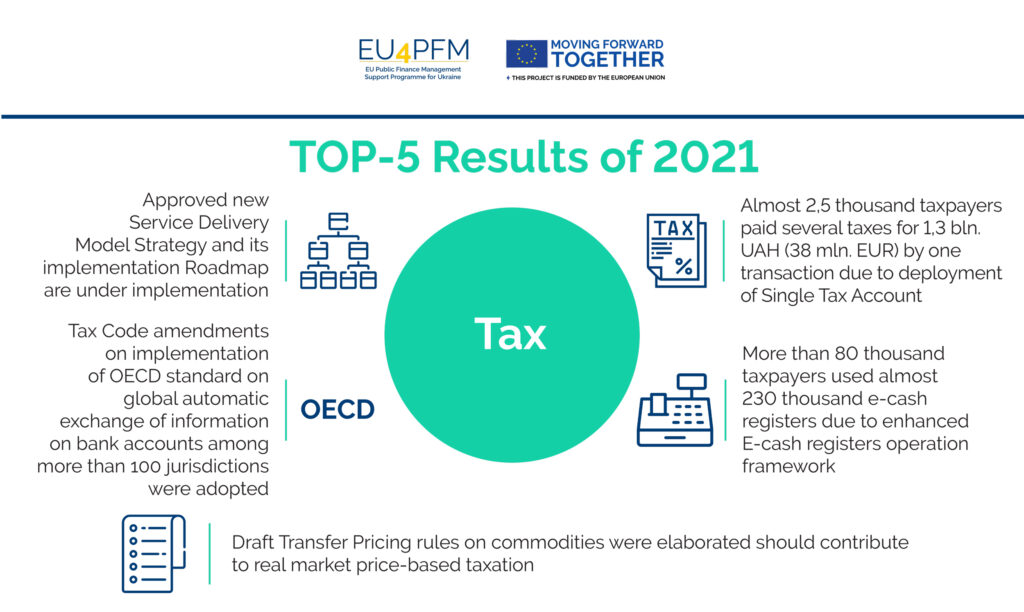 Among the TOP-5 common achievements of the EU4PFM project with partner institutions:
Approved new Service Delivery Model Strategy and its implementation Roadmap are under implementation.
Tax Code amendments on implementation of OECD standard on global automatic exchange of information on bank accounts among more than 100 jurisdictions were adopted.
Almost 2,5 thousand taxpayers paid several taxes for 1,3 bln. UAH (38 mln. EUR) by one transaction due to deployment of Single Tax Account.
More than 80 thousand taxpayers used almost 230 thousand e-cash registers due to enhanced E-cash registers operation framework.
Draft Transfer Pricing rules on commodities were elaborated should contribute to real market price-based taxation.
Moving forward together!