EU4PFM project supports the development of the proposals on improvement of the organisational culture of PFM institutions
On 23–25 November, the EU4PFM HR/PAR project experts held discussions with the heads of departments of the Accounting Chamber, the Ministry of Finance of Ukraine, and the State Customs Service of Ukraine on ways to improve the organisational culture of these institutions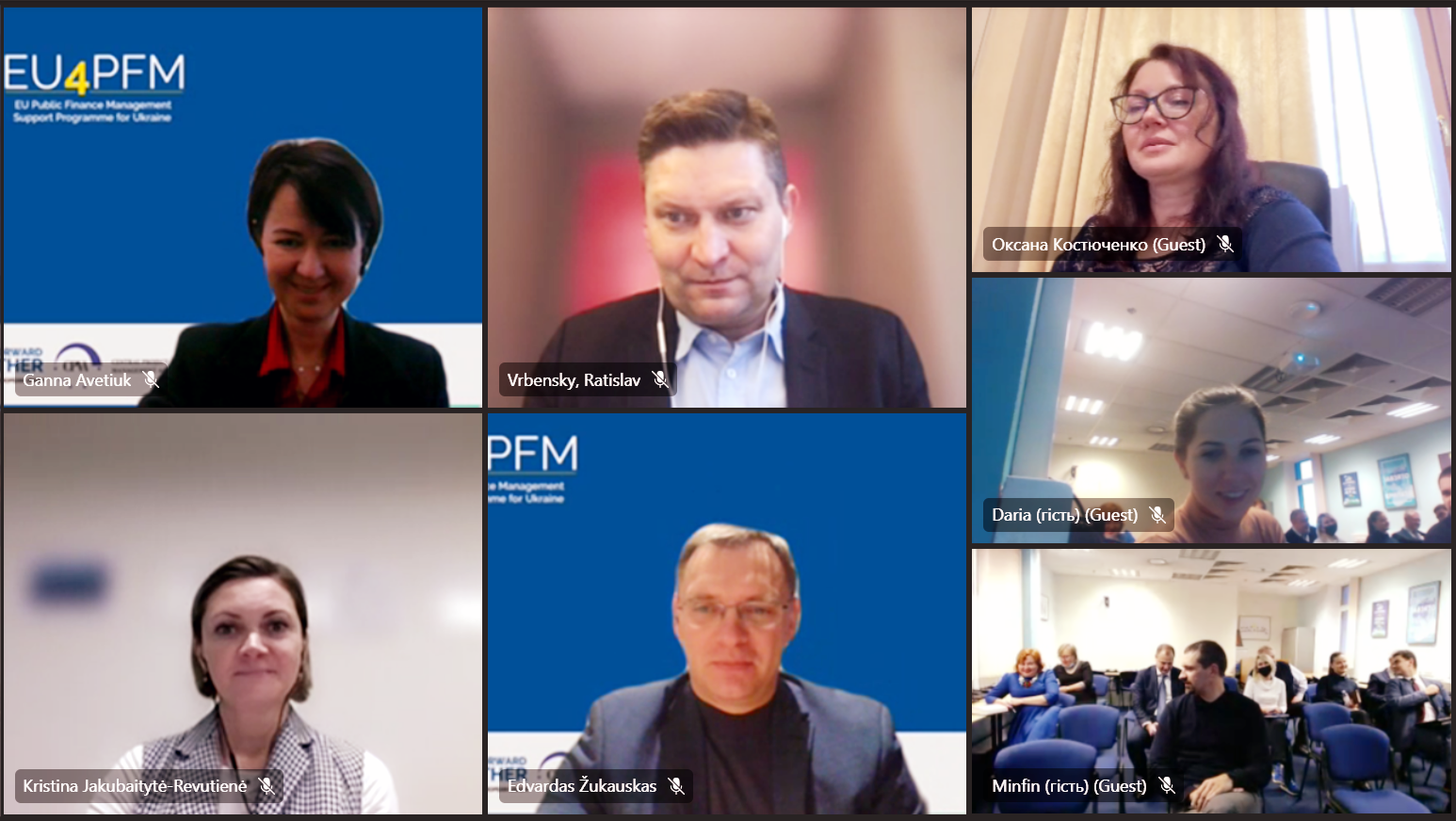 At the beginning of the event, Edvardas Žukauskas, an international EU4PFM expert at the HR/PAR, stressed that strengthening the capacity of partner institutions in public finance management in Ukraine and implementing EU best practices in their organisational development remains a priority of the EU4PFM project. "Our key task today is to discuss the current state of affairs, identify the strengths and weaknesses of the organisation and develop recommendations for improving the organisational culture of PFM institutions," he said.
Expert recommendations for the institutions in the field of public finance management in Ukraine are developed on the basis of four key traits of the Denison model (the model of studying a company's organisational culture, aimed at identifying the impact of the corporate culture on performance and efficiency). To date, the EU4PFM experts have conducted joint research with the PFM institutions with a view to determining the main traits of the current organisational culture; focus groups for discussing current organisational culture with the HR services; diagnostics of the cultural format.
"If we want to reform the old bureaucratic system into a more flexible model, which is ready for change and challenge, is customer-oriented and value-oriented, it is important to realize that managers play a key role in shaping organisational culture and transformation," said the EU4PFM project expert on HR/PAR Kristina Jakubaitytė-Revutienė.
According to her, organisational culture strongly influences employees and dictates their behavior, activities, interactions, and their work performance; organisational culture determines how decisions are made and how internal and external communications take place, etc. "Much depends on the organisational culture, on whether the organisation will be able to achieve the declared goals in general. It is essential that the organisational culture be effective and help in the development of an entire organisation, strengthen and promote each employee's motivation," the expert states.
To achieve this, it is essential to know whether the traits of organisational culture coincide with the organisation's mission and values; at least this should be sought, the EU4PFM expert on organisational change, Rastislav Vrbensky, stated.
"Innovations, attention to detail, focus on achievement, emphasis on attitude towards employees and teamwork, persistence, competitiveness, stability, focus on standards and rules, etc. are among the important characteristics," says Rastislav Vrbensky.
The participants of the workshop had also reviewed various concepts of organisational culture, current requirements to organisation culture's transformation in the public authorities, and the way those change the requirements to the employee competency model and the best examples of its implementation in other countries and the results of research conducted earlier by the EU4PFM experts in PFM institutions.
All the above processes should lead to the development of recommendations on improvement of the organisational culture in the above public authorities by the EU4PFM experts, in cooperation with the managerial staff of the offices.
Let's implement changes together!